Events and News
D.W. Craigie will be attending Anthocon 2013 November 8th through the 10th. The Vendor Room is open to the public and there are numerous readings, panel discussions, signings, art demonstrations, workshops, art exhibits and independent films that folks can register to attend. We hope to see you there!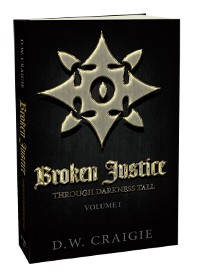 Sample Chapters and Excerpts
Excerpts from Broken Justice, The Paths we Choose, and "Tales of K'aeran - A New Road".
New Releases
The first of a planned trilogy, Broken Justice introduces readers to the world of K'aeran and the conflict raging across its landscapes. While written in the style of traditional western fantasy, Broken Justice approaches character development with a modern, literary view. Humans, complex and flawed, are rarely paragons and what is true in our own world is true in K'aeran. A leader may follow his heart in choosing what he thinks best for his people, but what if that heart is darkened by anger and resentment?A soldier might fight for his country, but will he fight as hard when he stops believing in that country?